The characters and other elements of the movie represent spiritual concepts and emanations of G-d which extend into humans and creation, and how these interact. In turn, these all relate to qualities within the main figure of Moshe Bellanga, as well as to each other.
"Hidden outside their existence," is the baby that Moshe and Mali hope for. 'Connected' to this potential child, is the etrog, which contains the "blessing for boys." The hidden theme to the movie is how connections must be made between the mystical Etrog and the baby, in order to bring the latter "into existence."
This is accomplished by Moshe through "rectifying" his own attributes at the deepest levels, which are represented by the other characters – who in turn need their own rectification.
There is G-d and only G-d, however, each of us in life has our own spiritual path which intersects in countless unknown ways with others and their paths.  G-d sets the 'conditions,' our job is to understand, act properly and advance to the next level. A lesson Moshe's rabbi imparts to him later in the movie.
Click on each image below for some insights: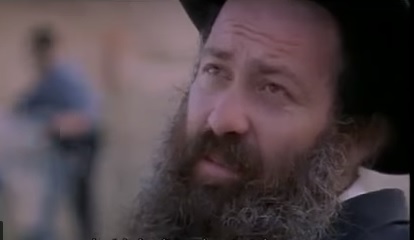 ---
---